"But the Junior Mr Popplewick isnt allowed to expect anyone"
In the same week that we lost Mary Tamm we also lost Geoffrey Hughes. This was a particularly sad moment for me as I had been a long admirer of his work. Trial of a Timelord, for me remains one of the true great stories and Hughes portryal of Mr Popplewick was screen stealing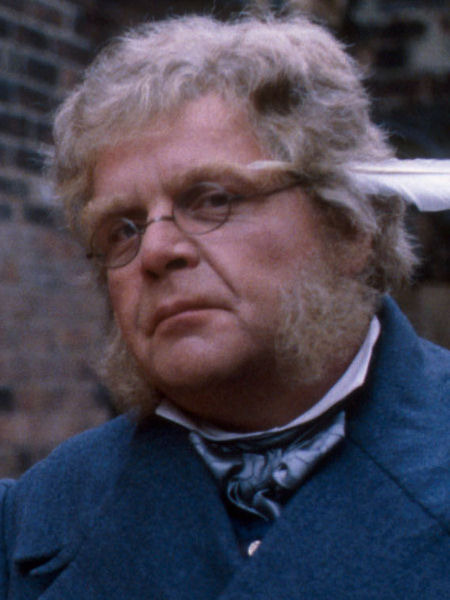 To Doctor Who fans, Geoffrey will be known as the marvellously over the top character of Mr Popplewick. Appearing in the final story of the Sixth Doctor's Trial of a Timelord. Popplewick was a pencil pusher with more than a hint of malevolence about him. Put it this way, do not ever get into a waiting room anywhere near him!
Geoffrey Hughes was born on the 2nd February 1944 and started his acting career in repertory in Stoke on Trent. He starred in many on and off West End productions, most notably in The Wonderful Wizard of Oz.
Television viewers came to love him as the slobbish Eddie Yeats, Stan Ogden's best friend, in Coronation Street and the equally slobbish but loveable Onslow in the BBC sitcom Keeping Up Appearances. Hughes made a number of film appearances including, Adolf Hitler: My Part in His Downfall, Carry On at Your Convenience and provided the voice for Paul McCartney in the Beatles cartoon film Yellow Submarine
My personal recollections started at an early age when my mum, an avid Coronation Street fan used to tune in every week. I remember being strangely drawn to the character of Eddie and, although he was a bit of a scallywag, there was something endearing about him. Later on I laughed like countless others at Onslow and even more at the character of Twiggy portrayed in the show The Royal Family
The common strand with all these characters is "larger than life" they were all so real but yet so eccentric. Hughes had a way of portraying the loveable layabout in a way that you never really questioned why his particular onscreen wife put up with him.
In later years Hughes could be seen regularly in Pantomime where audiences would again enjoy his manic over the top acting. It was something that delighted both television and stage audiences alike.

The death of Geoffrey Hughes is a tragic loss to us all. Trial of a Timelord is my favourite Colin Baker story and the character of Mr Popplewick is unforgettable like Hughes himself.